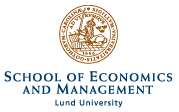 Working Paper Series, Institute of Economic Research, Lund University
2001 2002 2003 2004 2005 2006 2014
No. 2005/9: Fantasies of leadership - identity work

Stefan Sveningsson and Magnus Larsson
No. 2005/8: The Social Construction of Successful Practical Selling - A study of how sales persons at CR Ltd construct selling as successful

Catharina Norén
No. 2005/7: An Integrative Framework for Evolving A Socially Responsible Marketing Strategy

Adel El-Ansary and Annette Cerne
No. 2005/6: A study of inter-firm market orientation dimensions in Swedish, British and Italian supplier-retailer relationships

Ulf Elg
No. 2005/5: The Survival of the Unfittest: Delinquent corporations and the production of organisational legitimacy through symbolic-discursive fit

Peter Svensson
No. 2005/4: Isomorphism, Isopraxism and Isonymism - Complementary or Competing Processes?

Gudbjörg Erlingsdottír and Kajsa Lindberg
No. 2005/3: Knowledge Management and Organizational Learning: Fundamental Concepts for Theory and Practice

Ron Sanchez
No. 2005/2: The Role of Corporate Branding in a Market Driving Strategy

Veronika Tarnovskaya, Ulf Elg and Steve Burt
No. 2005/1: Exploring the Role of Experience in the Process of Entrepreneurial Learning

Diamanto Politis and Jonas Gabrielsson
---
2001 2002 2003 2004 2005 2006 2014
Download statistics for the working paper
series
and
S-WoBA
---
---
Questions (including download problems) about the papers in this series should be directed to Elsbeth Andersson ()
Report other problems with accessing this service to Sune Karlsson () or Helena Lundin ().
Programing by
Design by Joakim Ekebom